Ganesh Industries offers a comprehensive line of festoon products, ranging from simplest of systems running on stretched wire rope to the complex,high speed demands of portal and container cranes. Safe Power's festoon systems run on wire rope, c-track, square bar and I-Beams, with trolleys able to support static loads up to 100 Kg. with Heavy-Duty festoon systems. Safe Power festoon systems are designed to support and protect flatand round electrical cables. Our systems can operate in indoor and outdoor environments and can also be designed for harsh, aggressive environments. Outstanding Features: Durability, Versatility, Safety & Ease of Operation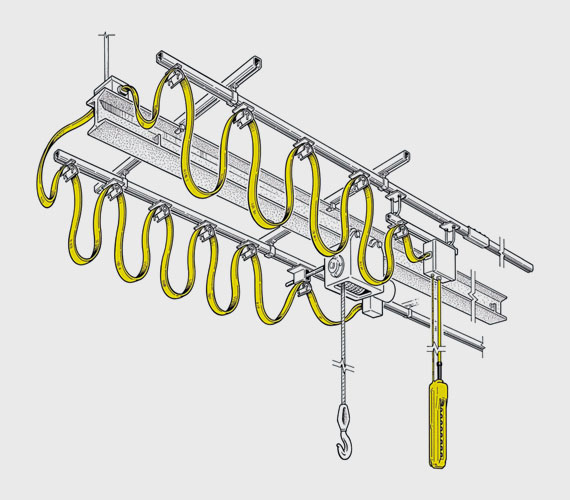 Safe Power C-RAIL FESTOON SYSTEMS are a clean, economical and efficient method of managing power and control cables for mobile equipments.

FESTOON SYSTEMS are generally used on overhead cranes for the transmission of power and control signals for cross bridge trolley travel, but they can also be applied to crane runway travel, transfer cars, monorails, refuse cranes, waste water treatment machines, industrial Cranes & Hoists, Machine Tools, Maintenance Equipment, Production / Assembly / Process Lines, Stacker / Retriever Cranes, High Acceleration / Curves / Heavy Duty, Etc.